Ducati Motorcycles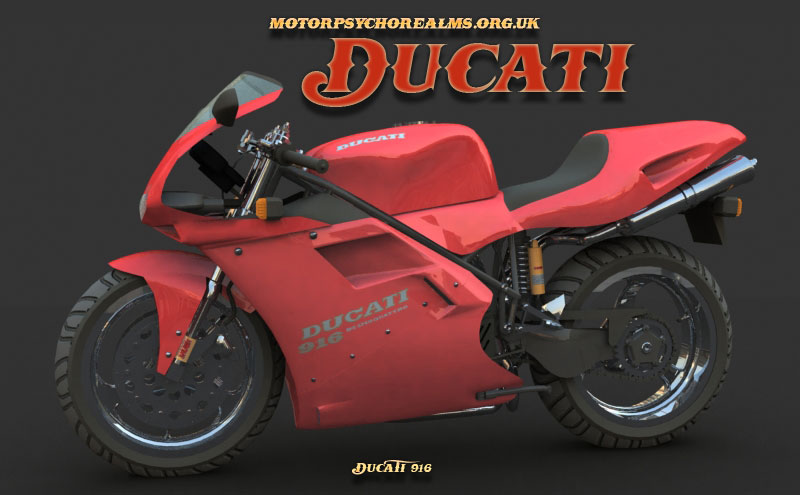 Ducati motorcycles have long been known for their excellence in design and performance. From the first post-Second World War bicycle-like low-displacement motorbikes Ducati has grown over the years into a racing giant that is consistently competitive in both the racing arena and the world motorcycle marketplace.
Ducati is best known for high performance motorcycles characterized by trellis-style frames and large capacity four-stroke, 90-degree L-twin[1] engines featuring a desmodromic valve design. Modern Ducatis remain among the dominant performance motorcycles available today partly because of the Desmodromic valve design, which is nearing its 50th year of use.
The chief designer of Ducati motorcycles from the 1950s was the late Fabio Taglioni (1920-2001). He designed most Ducatis during this period, ranging from the small single cylinder machines that were successful in the Italian 'street races' up to the large capacity twins of the 80s. Ducati introduced the Pantah in 1979; its engine was updated in the 1990s in the Ducati SuperSport (SS) series. All modern Ducati engines are derivatives of the Pantah, which uses a toothed belt to actuate the engine's valves
In 1995, the company introduced the Ducati 916 model designed by Massimo Tamburini, a water-cooled version that allowed for higher output levels and a striking new bodywork that featured aggressive lines, underseat exhausts, and a single-sided swingarm. Ducati has since ceased production of what many called the bike of the 1990s, supplanting it with the 749 and 999.
Ducati rejoined the MotoGP series in 2003, after a 30 year absence. Loris Capirossi has been with the team since its current inception in 2003 and Casey Stoner joined him as a teammate for the 2007 season riding the Desmosedici GP7.
The company has enjoyed twelve World Superbike rider championships since the series' inception in 1988.
........................................
In his essay taken from Cycleworld Magazine called 'Song of the Sausage Creature' Hunter S. Thompson does speak with some affection for the
Vincent Black Shadow
whilst comparing it to the Ducati 900, describing a bike that was definitely not for the faint hearted or shallow poseur:
"The Ducati 900 is so finely engineered and balanced and torqued that you can do 90 mph in fifth through a 35-mph zone and get away with it. The bike is not just fast -- it is extremely quick and responsive, and it will do amazing things.... It is a little like riding the original
Vincent Black Shadow
, which would outrun an F-86 jet fighter on the takeoff runway, but at the end, the F-86 would go airborne and the
Vincent
would not, and there was no point in trying to turn it. WHAMO! The Sausage Creature strikes again. There is a fundamental difference, however, between the old
Vincent
s and the new breed of superbikes. If you rode the
Vincent Black Shadow
at top speed for any length of time, you would almost certainly die. That is why there are not many life members of the
Vincent Black Shadow
Society. The
Vincent
was like a bullet that went straight; the Ducati 900 is like the magic bullet that went sideways and hit JFK and the Governor of Texas at the same time.''