Harley-Davidson Motorcycles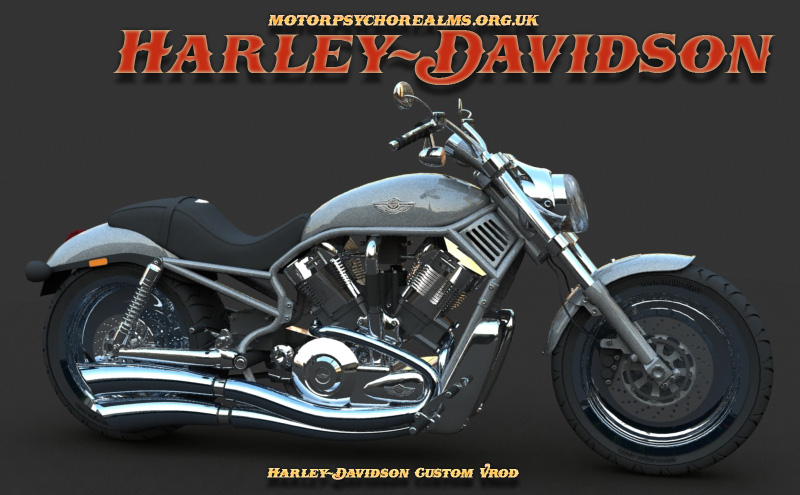 Harley-Davidson
. The company considers 1903 to be its year of founding, though the Harley-Davidson enterprise could be considered to have started in 1901 when William S. Harley, age 21, drew up plans for a small engine that displaced 7.07 cubic inches (116 cc) and had four-inch flywheels. The engine was designed for use in a regular pedal-bicycle frame.
Over the next two years Harley and his boyhood friend Arthur Davidson labored on their motor-bicycle using the northside machine shop of their friend Henry Melk. It was finished in 1903 with the help of Arthur's brother, Walter Davidson. Upon completion the boys found their power-cycle unable to conquer Milwaukee's modest hills without pedal assistance. Will Harley and the Davidsons quickly wrote off their first motor-bicycle as a valuable learning experiment.
Work was immediately begun on a new and improved machine. This first "real" Harley-Davidson motorcycle had a bigger engine of 24.74 cubic inches (405 cc) with 9-3/4 inch flywheels weighing 28 pounds. The machine's advanced loop-frame was similar to the 1903 Milwaukee Merkel motorcycle. They also got help with their new engine from outboard motor pioneer Ole Evinrude. Elder brother William A. Davidson also lent a hand.
The prototype of the new improved loop-frame model was assembled in a 10 by 15-foot (3 by 5 meter) shed in the Davidson family backyard. The machine was functional by 8 September 1904 when it was entered in a Milwaukee motorcycle race, the first known appearance of a Harley-Davidson motorcycle.
In January 1905 small advertisements were placed in the "Automobile and Cycle Trade Journal" that offered bare Harley-Davidson engines to the do-it-yourself trade. By April, complete motorcycles were in production on a very limited basis. In 1905 no more than a dozen machines were built in the backyard shed. Some years later the original shed was taken to the Juneau Avenue factory where it would stand for many decades as a tribute to the Motor Company's humble origins. Unfortunately, the first shed was accidentally destroyed by contractors in the early 1970s during a clean-up of the factory yard.
Harley Davidson, on the eve World War II, was already supplying the Army with a military-specific version of its 45" WLD line, called the WLA. (The A in this case stood for "Army".) Upon the outbreak of war, the company, along with other manufacturing enterprises, shifted to war work. Over 90,000 military motorcycles, mostly WLAs and WLCs (the Canadian version) would be produced, many to be provided to allies. Shipments to the Soviet Union under the Lend-Lease program numbered at least 30,000. The WLAs produced during all years of war production would, unusually, have 1942 serial numbers. Production of the WLA stopped at the end of the war, though it would resume production from 1949 to 1952 due to the Korean War.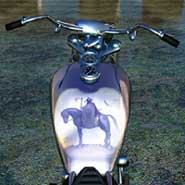 Modern Harley-branded motorcycles fall into one of five model families: Touring, Softail, Dyna, Sportster and VRSC. Model families are distinguished by the frame, engine, suspension, and other characteristics.
Sportster With the exception of the street-going XR1000 of the 1980s, all Sportsters made for street use have the prefix XL in their model designation. For the Sporster Evolution engines used since the mid 1980s, there have been two sizes of Sportster Evolution engine. Motorcycles with the smaller engine are designated XL883, while those with the larger engine were initially designated XL1100. When the size of the larger engine was increased from 1,100 cc to 1,200 cc, the designation was changed from XL1100 to XL1200. Subsequent letters in the designation refer to model variations within the sportster range, eg. the XL883C refers to an 883 cc Sportster with cruiser or custom styling, while the XL1200S designates the now-discontinued 1200 Sportster Sport.
Dyna models utilize the big-twin engine (F), small-diameter telescopic forks similar to those used on the Sportster (X), and the Dyna chassis (D). Therefore, all Dyna models have designations that begin with FXD, eg. FXDWG (Wide Glide) and FXDL (Low Rider).
Softail Softail models utilize the big-twin engine (F) and the Softail chassis (ST).
Softail models that use small-diameter telescopic forks similar to those used on the Sportster (X) have designations that begin with FXST, eg. FXSTB (Night Train) and FXSTD (Deuce).
Softail models that use large-diameter telescopic forks similar to those used on the touring bikes (L) have designations beginning with FLST, e.g. FLSTF (Fat Boy) and FLSTC (Heritage Softail Classic).
Softail models that use Springer forks with a 21-inch wheel have designations that begin with FXSTS eg. FXSTS (Springer Softail) and FXSTSB (Bad Boy).
Softail models that use Springer forks with a 16-inch wheel have designations that begin with FLSTS eg.FLSTSC (Springer Classic)
Touring models use Big-Twin engines and large-diameter telescopic forks. All Touring designations begin with the letters FL, eg. FLHR (Road King) and FLTR (Road Glide)
VRSC or Revolution designations all begin with the letters VRSC
Harley model designations are a sequence of letters and numbers, combined in limited ways. The sequences can be long, as in the 2006 model designation FLHTCUSE.
The first letter may be one of the following:
E, J, K ('50s small twin), F, U, V (Big Twin), D, G, R, W (Small Twin), X (Sportster), or V (VRSC)
Letters are appended singly or in pairs, as follows:
B (Belt Drive), C (Classic or Custom), D (Dyna Glide), DG (Disk Glide), E (Electric start), F (Fat Boy (1990-present) or Foot-shift (1972 and prior)), H (High compression), L (Hydra Glide forks), LR (Low Rider), P (Police), R (Race or Rubber-mount), S (Sport or Springer), SB (Single belt final drive), ST (Softail), T (Touring), WG (Wide Glide), I (Fuel injection), SE (Screamin? Eagle), U (Ultra)
Custom Vehicle Operations models can also have a number (2,3,4) added.
Note that these conventions for model designations are broken regularly by the company.