Kawasaki Motorcycles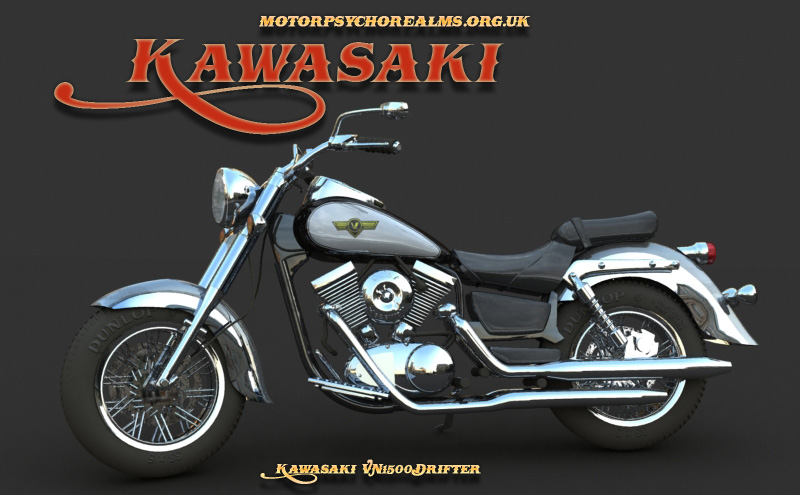 Kawasaki is one of the world's major manufacturers of motorcycles with an extensive product line. The Ninja sport bike and Vulcan cruiser are the primary models of today's Kawasaki line up. In racing their team color is green.
The Kawasaki Vulcan 1500 Drifter is a fuel-injected shaft driven motorcycle cruiser created in the classic style lines of the 1940s 'Chief' (which was manufactured by the Indian Motorcycle Manufacturing Company). Kawasaki built this model between 1999 and 2005.
The Drifter?s retro look was achieved by using the Vulcan 1500 as a base from which to generate a streamlined design which would evoke a classic appearance while relying upon the modern technology such that despite its 1940s appearance, the Drifter was powered by a fuel-injected liquid-cooled 1470 cc V-twin transmitting power by a five-speed tranny featuring an automatic neutral finder. A drive shaft served to transfer power from the engine and transmission to the rear wheel. Straddling a 65.2-inch wheelbase, it weighed in at 322 kg (709 pounds). That weight is reigned in by single disk brakes front & rear.
Kawasaki repeated the blacked out look in 2000, then in 2001 introduced a new look which included chromed forks and accessories, a larger gasoline tank, and a slightly modified seat. And, with the 2001, this classic now came with a stock solo seating as opposed to the two-up seat which had been standard issue on the 1999 and 2000 models.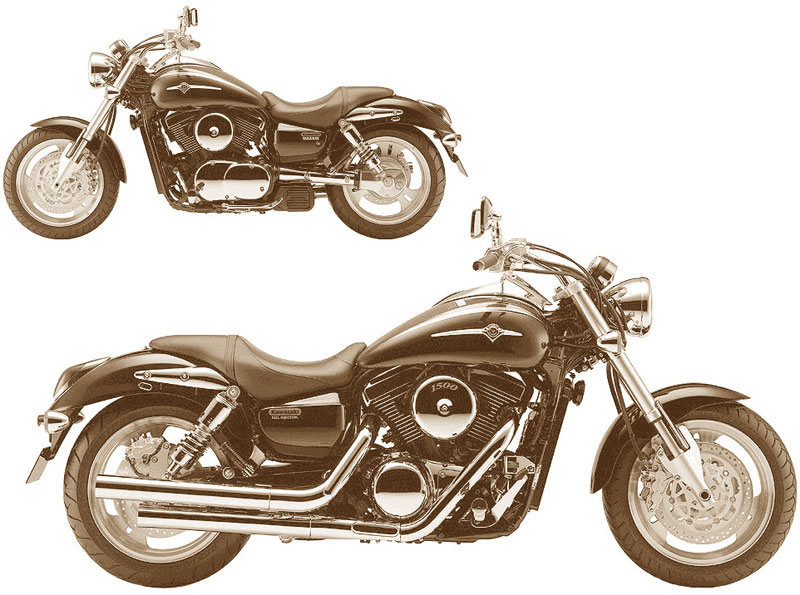 Kawasaki VN1500 Meanstreak 2002
The Drifter?s design drew a positive response from those who prefer the Indian Chief?s deeply valanced classic fender skirts to the more traditional fender style. Rear air shocks, original swingarm arrangement and progressive front suspension made it a comfortable cruiser capable of covering great distances comfortably. Tire tubes were stock as Kawasaki followed Cobra?s lead and used chromed spoke wheels to complete the nostalgic look it was seeking to recreate.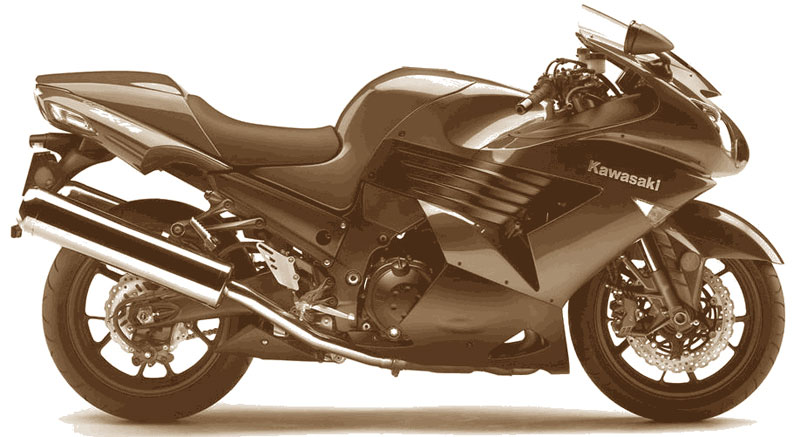 Kawasaki Niinja ZX 14 2006
Following its 2005 model year release, the 1500 Drifter was retired from the Kawasaki stable. Its lighter weight counterpart, the 805 c.c. Drifter, introduced in 2000, would remain in production for one more year before it too ceased production.