Panther Motorcycles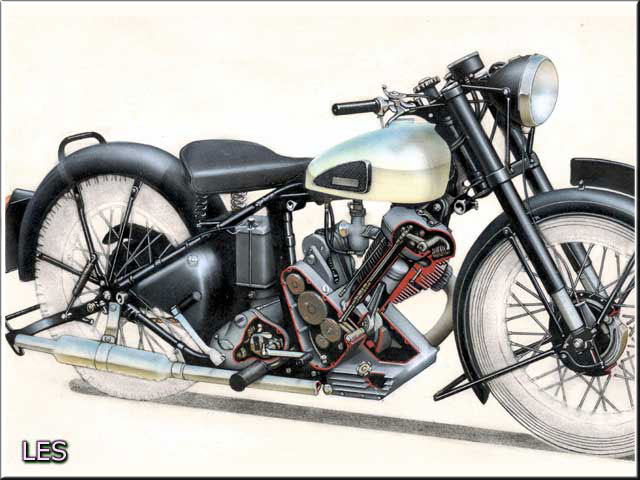 Phelon & Moore manufactured motorcycles in Cleckheaton, Yorkshire, UK from 1904 to 1967 particularly those under the Panther marque. They became identified with one particular design of motorcycle which had a large sloping 45 degree single cylinder engine as a stressed front frame member. This design spanned the entire history of the company, starting with a 500 cc model and ending with a 645 cc model.
The sloping stressed member concept was patented in 1900 by Joah ("John") Carver Phelon and his nephew Harry Rayner. Phelon & Rayner made the first chain-driven motorcycle in 1900. They could not afford to put their first bike into production, so sold the design to Humber for royalties, and that design was produced by Humber till 1907. After Harry Rayner died in a car accident, Joah Phelon went into partnership with Richard Moore.
Phelon & Moore was established in 1904. A clutch and two speed gear with chain drive was standard on a P&M in 1906. P&M motorcycles competed in the first International Six Days Trial (ISDT) in 1913. ( Now called the International Six Days Enduro). The The Royal Flying Corp used P&M motorcycles in World War I, keeping P&M busy throughout the conflict. The P&M Panther was introduced in 1924. P&M's big four stroke sidecar bikes were called the Heavyweights, and smaller solo machines were called Lightweights. There were two and four stroke Lightweights.
The first Panther was launched in 1924, but the Phelon & Moore name was not dropped until somewhere around 1929.
In 1932 the Panther Model 100, an OHV 600 cc single, was launched and this was produced through to the sixties, ending its run as the 645 cc Model 120 of 1967. This line of Panthers was the most famous of all Phelon & Moores models.
These heavyweight big single cylinder "slopers" were often described as "firing once every lamp-post." due to their slow rpm. Promoted as "The Perfected Motorcycle" they were noted for innovation for most of their history. Panthers were often used for hauling sidecars; a role in which the high torque output of a high capacity single cylinder engine with its large flywheels was well suited, but the popularity of sidecar outfits eventually waned.
The combination of the advent of cheap cars and the collapse of the British motorcycle industry brought production to an end. They are simple and fairly robust machines which inspire enormous enthusiasm in their owners. These factors, combined with relatively low cost, have resulted in a fair number of Panthers being still in use.
Phelon & Moore also produced a range of lightweight machines, also generally carrying the name Panther or Red Panther, using their own four-stroke single engines and Villiers two-stroke engines. The Red Panther was famous for being the cheapest complete bike available in the thirties, priced at a fraction under 30 English Pounds. In 1934 a 250 cc Red Panther won the Maudes Trophy.
The early postwar models (both lightweight and heavyweight) were fitted with air/oil damped Dowty "Oleomatic" telescopic forks
In 1968, after Panther production had ceased, the company briefly imported Terrot mopeds and scooters from France.
Panther Model 100
(600ccc)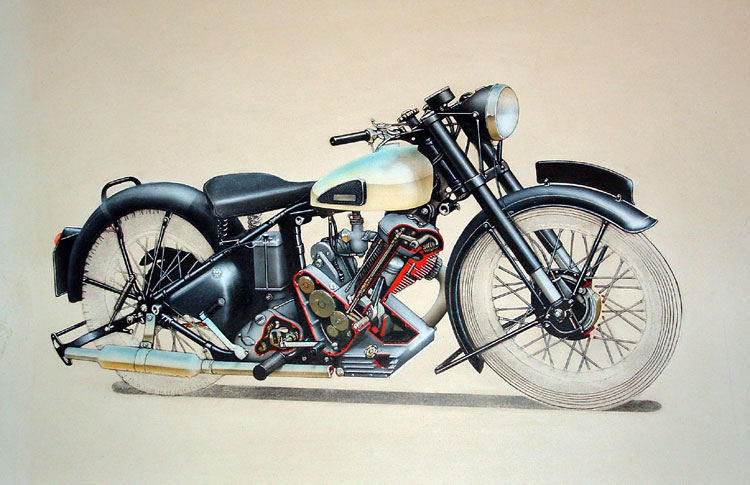 Specification - Panther Model 100
Engine - Air cooled, single cylinder, overhead valve, pushrod four stroke.
Bore 87mm. Stroke 100mm. Capacity 598cc.
Compression Ratio 6.1 to 1.
Cast iron barrel and head.
Amal carburettor
Transmission - Multi-plate clutch in oil.
Single roller primary and secondary chains.
Burman four-speed, foot change gearbox.
Overall ratios -
solo - 11.98, 7.04, 5.65 and 4.49 to 1
sidecar - 13.61, 8.00, 6.42 and 5.1 to 1
Electrics - Lucas magdyno ignition with manual advance and retard.
6 volt 13 amp hour battery. 7in. headlamp
Capacities - 3 gallons petrol, 4 pints oil ( oil tank under / in crankcase)
Equipment - Kickstarter, exhaust valve lifters in head and timing case, spring saddle, stands (front and rear)
Wheels - Front tyre 3.25 x 19in., Rear tyre 3.50 x 19in., Steel chromed rims.
Brakes - 8in. front drum, 7in. rear drum.
Dimensions - Seat height 28in., ground clearance 6in., wheelbase 54in., overall length 83in., weight 385lbs.
Manufacturer - Phelon and Moore Ltd., Cleckheaton, Yorkshire.